THE MANAHATTAN LYRIC OPERA-POP!
The Manhattan Lyric Opera-POP! Company, (MLO) is uniquely devoted to presenting elegant, concise, user-friendly staged and concert versions of the classic Operas, Operettas and Broadway works. They specialize in making the heart of this great music accessible to established large facilities as well as to smaller venues which might otherwise never have the resources to offer such artistic works in their entirety or in part.  In addition, we now offer popera and cabaret programs from pop to opera to broadway to folk and jazz.
Employing only top artists, (MLO) tours often, and cuts down almost all of their productions to 90 minutes, adding supertitles and projected sets for a user-friendly and cost-effective approach. (MLO) performs at: Large and small Theaters, Corporate Settings, Historic Houses, Museums, Libraries, State Parks, Universities, High Schools, Grade Schools, Synagogues, Churches, Music Festivals, Retirement Homes/Villages, Private Homes, Resort Hotels, Restaurants, Cruise Ships, and can additionally offer their service as a "Dinner and an Opera ™" evening.
They have toured Florida and the midwest with: La Traviata, Rigoletto, Die Fledermaus, The Elixir of Love, The Merry Widow, and Lucia di Lammermoor and most recently (A Rodgers to Romberg and Webber review show) to rave reviews: "Manhattan Lyric Opera electrifies theatergoers in Elkader…The farcical operetta drew giggles and belly laughs from the crowd but even more genuine rounds of applause in admiration for the the stirring showcase of vocal talent." Joleen Jansen/ The Clayton County Register.
(MLO) also produces cabaret type shows with two to three singers or more as a duo, trio, quartet etc.. as an educationally entertaining performance, for children as well as adults, with a wide variety of repertoire including Opera, Operetta, Broadway, Neapolitan, Lieder and Popular Songs in many languages such as Italian, German, French, Spanish, Russian and Hebrew and can customize a program to fit the needs and the tastes of any audience. In addition, they also offer masterclasses in a lecture and question and answer format on vocal technique and operatic musical style.
We are excited to be promoting our latest cabaret group: Mr. Romantico & The Diva! which focuses on pop, neaopolitan, hollywood classics, broadway and a little bit of opera and operetta.  Romantic and humorous duets from Bocelli to Bacharach.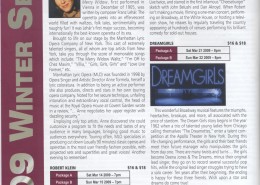 https://manhattanlyric.com/wp-content/uploads/2015/01/TheTownshipMerryWidow2009Program.jpg
1579
1200
dror64
https://manhattanlyric.com/wp-content/uploads/2015/01/Logo.png
dror64
2009-03-07 22:52:08
2017-01-02 13:34:43
The Township Theater- Merry Widow 2009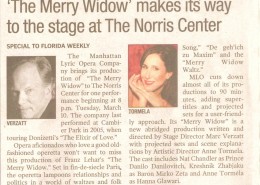 https://manhattanlyric.com/wp-content/uploads/2015/01/NaplesDailyNewsArticleMerryWidow2009.jpg
1706
1622
dror64
https://manhattanlyric.com/wp-content/uploads/2015/01/Logo.png
dror64
2009-03-05 22:47:19
2017-01-02 13:34:36
Naples Daily News – Merry Widow 2009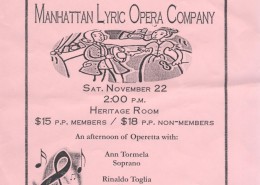 https://manhattanlyric.com/wp-content/uploads/2015/01/HeritageHillsOperaClub2008.jpg
1503
1200
dror64
https://manhattanlyric.com/wp-content/uploads/2015/01/Logo.png
dror64
2008-11-22 00:01:26
2017-01-02 13:34:30
Heritage Hills Opera Club 2008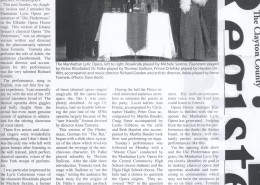 https://manhattanlyric.com/wp-content/uploads/2015/01/ElkaderDieFledflyer2008.jpg
3286
2550
dror64
https://manhattanlyric.com/wp-content/uploads/2015/01/Logo.png
dror64
2008-05-09 17:34:24
2017-01-02 13:34:24
Elkader Die Fledermause flyer 2008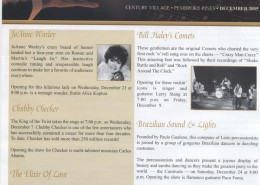 https://manhattanlyric.com/wp-content/uploads/2015/01/centuryVillageBocaElixir2005.jpg
1551
1200
dror64
https://manhattanlyric.com/wp-content/uploads/2015/01/Logo.png
dror64
2005-12-27 22:40:26
2017-01-02 13:34:11
Century Village Boca Elixir 2005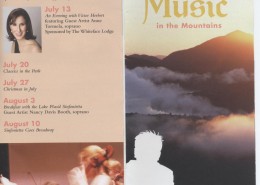 https://manhattanlyric.com/wp-content/uploads/2015/01/LakePlacidFlyer2005.jpg
1392
1120
dror64
https://manhattanlyric.com/wp-content/uploads/2015/01/Logo.png
dror64
2005-07-13 23:51:41
2017-01-02 13:34:08
Lake Placid Sinfonetta 2005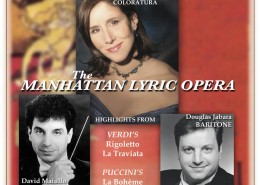 https://manhattanlyric.com/wp-content/uploads/2015/01/mauchchunkPosterApril20051.jpg
1545
1000
dror64
https://manhattanlyric.com/wp-content/uploads/2015/01/Logo.png
dror64
2005-04-16 22:44:07
2017-01-02 13:33:58
Mauch Chunk Opera 2005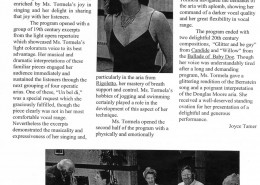 https://manhattanlyric.com/wp-content/uploads/2015/01/WISEflyerReview2004.jpg
1285
1000
dror64
https://manhattanlyric.com/wp-content/uploads/2015/01/Logo.png
dror64
2004-08-08 23:54:55
2017-01-02 13:33:51
WISE Review 2004